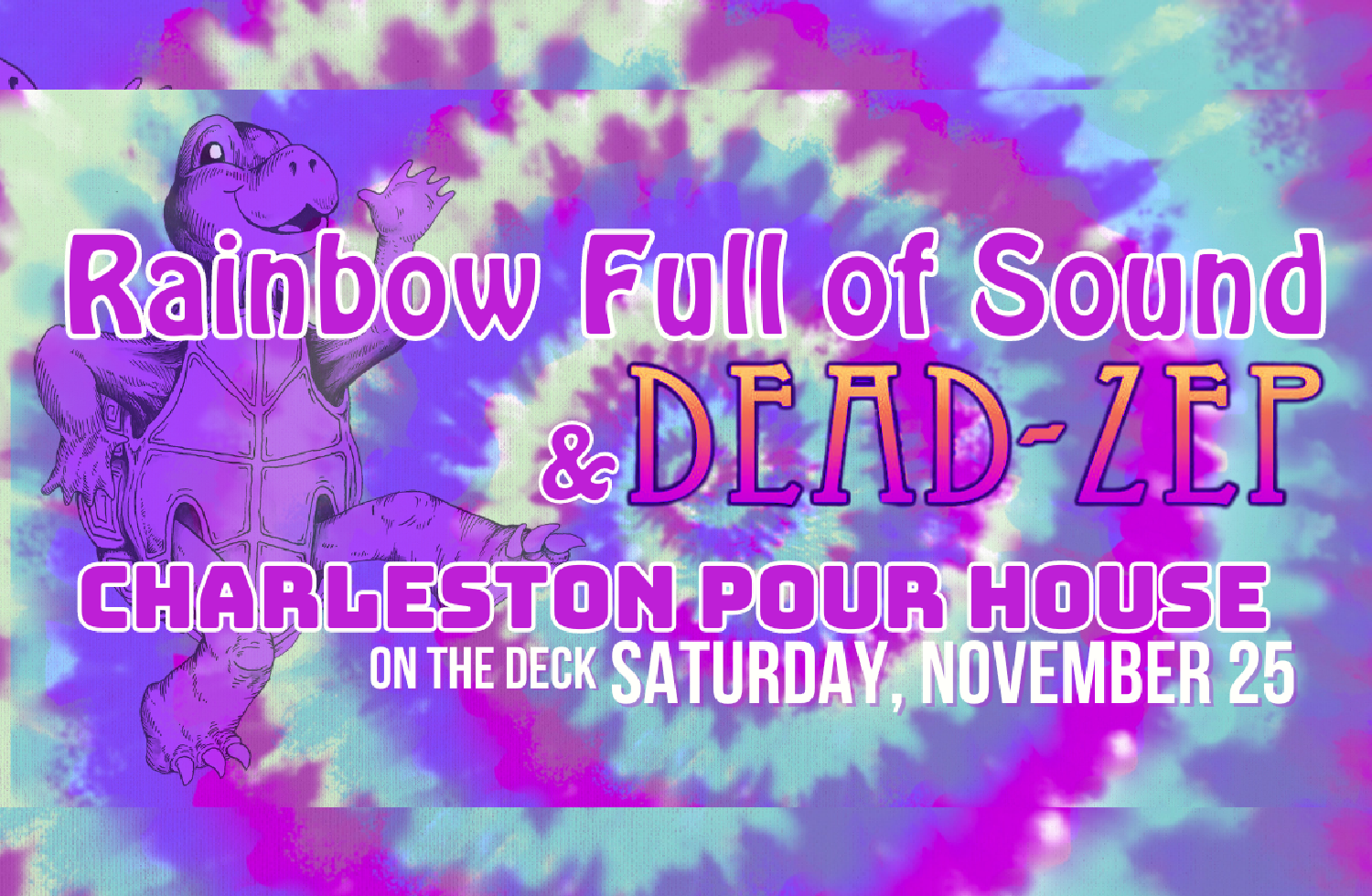 Waynard & Rainbow Full of Sound
November 25 @ 6:00 pm

-

9:00 pm

|

$15 – $17
GET TICKETS »
Waynard & Rainbow Full of Sound
+ Dead-Zep (Grateful Dead / Led Zeppelin Mashup)
Saturday, 11.25.23
Charleston Pour House
Deck Stage
5pm doors /6pm show
$15 advance /$17 day of show
Waynard & Rainbow Full of Sound
Waynard Scheller and Rainbow Full of Sound (RFoS) play Grateful Dead songs, and they've been doing so for a while – 300 shows' worth. But this spring's tour will come with a very special twist: they are going to re-create the Dead's legendary 1972 tour of Europe, tracing the path of twenty-one shows from England to Denmark to Germany to France to the Netherlands and back to England.
Appropriately, RFoS began as a one-off experiment in 2012 when a gang of Dead Heads decided to play the entire 1980 Radio City Music Hall run. It was so much fun that it took on a life of its own, with a rotating cast that keeps it fresh.
The one consistent link is Waynard, who fell in with one of the oldest Dead-oriented bands, the former Zen Tricksters of Long Island, and they toured for some time as Jam Stampede.
He met John Kadlecik, formerly of Dark Star Orchestra and then Furthur, and worked on three tours with him.
One day he got a call to play a show in a crypt at the Church of the Intercession in Trinity Cemetery, New York City, in the process meeting Zach Nugent (then with Melvin Seals and JGB) and Kenny Brooks (formerly with Bob Weir in RatDog). His name spread around GD circles, and he played with Weir himself in an SF Bay-Area benefit for the Jerry Garcia Foundation called "Imagine There's No Hunger," and after hitting it off with him, on several other shows. Working with the Foundation brought him into contact with Hot Tuna's Jorma Kaukonen and Jack Casady, and then another path to Jason Crosby and Grahame Lesh of the Lesh Family Band…and the road goes on.
Bruce Hornsby once remarked that Grateful Dead songs had become "hymns" – in fact, they really are the new canon of traditional American music. Their appeal, Waynard says, is two-fold; there's the sheer eclectic gumbo of bluegrass, jazz, blues, R & B and you-name-it that is fused into what they did, what the songs represent—but "best of all is the improvisational nature of the music, the opportunity to explore the unknown, to have no earthly idea what will come next, which is the most inspiring part of it."
It's a language all its own, one that hundreds of musicians across the country can play—and Dead Heads can dance to. And Waynard and RFoS is a band that's increasingly going to be reckoned with.
* Show is all ages. Attendees under 18 must be accompanied by a parent & will be subject to a $5 surcharge. The surcharge must be paid in cash at the door on the day of the event.