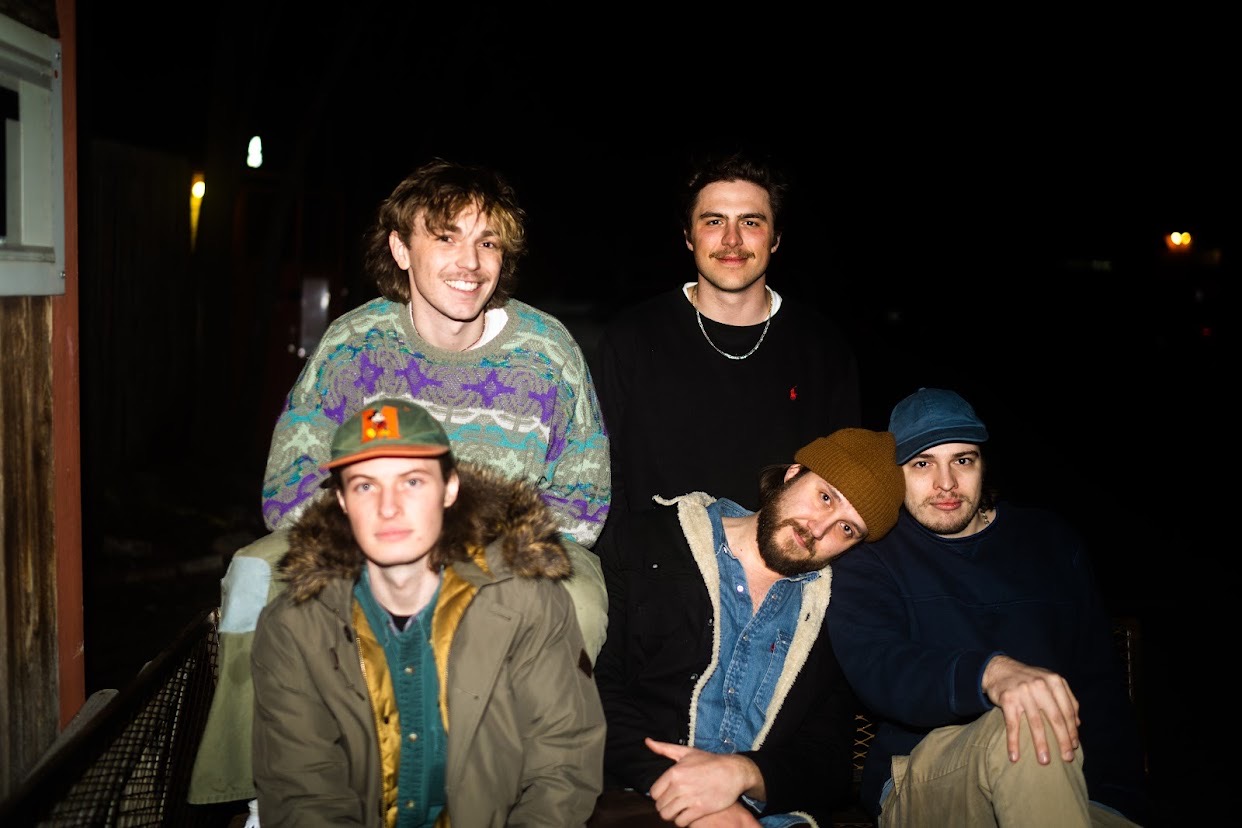 Krooked Kings
October 13 @ 6:00 pm

-

9:00 pm

|

$15 – $18
GET TICKETS »
Krooked Kings
w/ Early Eyes
Friday, 10.13.23
Charleston Pour House
Deck Stage
$15 advance /$18 day of show
18+ // under 18 ok with parent or guardian
5pm doors/6pm show
Krooked Kings
On the back of a stand out SXSW, rising Salt Lake City based indie rock quintet Krooked Kings today release their brand new album, All Out Of Good Days.Produced by surf-rock darling Day Wave, the album is a body of work built on garage rock roots and decorated with indie-pop choruses. With 13,000 tickets sold on the west coast of North America before the album release, Krooked Kings are a DIY success story who have built a fan base on the back of a committed touring schedule, driving guitars and vibrant vocals, All Out Of Good Days promises to take Krooked Kings to the next level. Speaking on the project, they state:

'We're just five guys from Utah making music both for pleasure and to process our experiences of the world. This album is a scrapbook of thoughts and feelings bound to the time we wrote it. It's about the weird time between college and the rest of your life and everything that surrounds that. About how utterly confusing, depressing, and joyful it can be.'
More on Krooked Kings…
A grass roots band who were raised in the Mormon faith before taking the decision to walk away from the religion and embrace music, Krooked Kings are a unique band with a unique story.
In 2019, a group of five college friends from the University of Utah came together to write music and play shows in backyards and basements. Over the course of the last few years, the band has proven time and again their ability to write heartfelt indie rock gems. After signing with Los Angeles based indie label Nobody Gets It Records in 2020, the band released their breakout single, "'96 Subaru", which has amassed over three million streams. By September 23, 2021, Krooked Kings released their debut project, The Comedown. After the the release, Krooked Kings hit the road on two support tours with Goth Babe and Rare Americans, as well as three headline dates in Denver, Salt Lake City, and Los Angeles. Keep an eye out for new music from Krooked Kings in the coming months, as they wrap up recording their sophomore record.
Early Eyes
Early Eyes is a five-piece band from Minneapolis, Minnesota making pop music for the end of the world.
"Look Alive!" Writeup:
It's a foreboding time to make pop music. But like a sunbeam peering through a haze of wildfire smoke, Early Eyes have somehow persevered through dashed dreams, fractured relationships, historic social justice uprisings in their own hometown, and a society tearing apart at the seams to make an album that is both responsive to the chaos and wearily optimistic. 
"It almost feels like Look Alive! is a direct response to the pandemic," bandleader Jake Berglove reflects. "It was like, oh, my goodness, all of our capitalist anxieties just came true! We took all of that anxiety and angry energy and put it into making a really fucked up album." 
"The album was not just an expression of all of our frustrations, but also an escape from it," adds guitarist Joe Villano. "And I feel like the process of making it really carried us through the year." 
Look Alive! vibrates with angst, punctuated by computerized glitches and disintegrating threads of abandoned melodies that echo in the distance before roaring back to life. A track like "Chemicals" will begin with Early Eyes' signature buoyant and catchy pop-rock, but as the song progresses it grows more ominous before shattering apart in an earthquake of rattling, subterranean bass.
* Show is 18+. Attendees under the age of 18 must be accompanied by a parent or guardian. Attendees under 21 will be subject to a $5 surcharge. The surcharge must be paid in cash at the door on the day of the event.