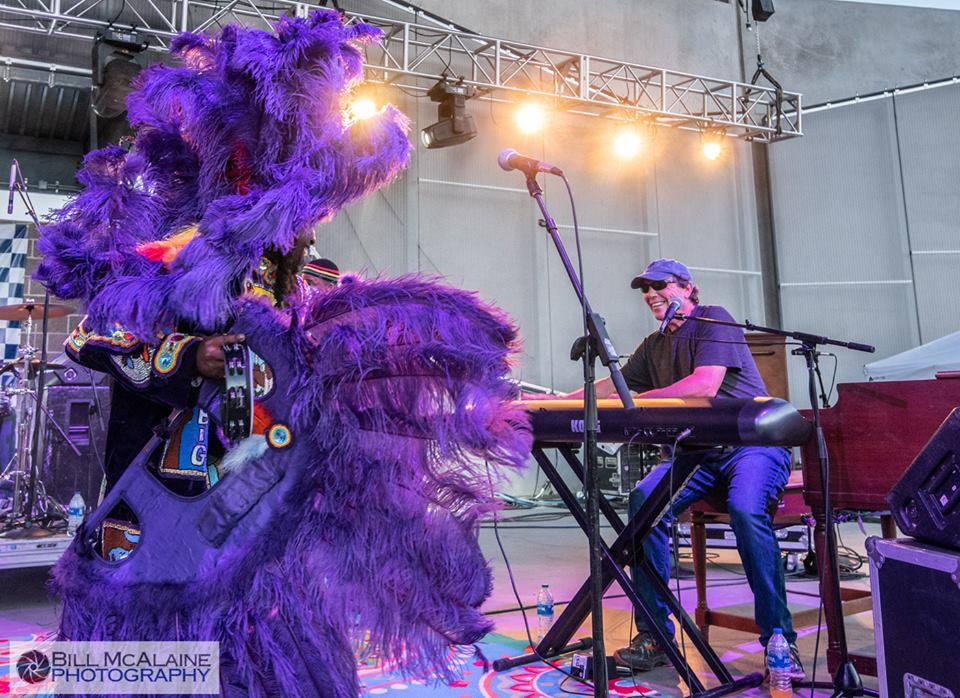 *SOLD OUT* John "JoJo" Hermann (Widespread Panic) and Big Chief Juan Pardo
December 8 @ 9:00 pm

-

1:30 am

|

$20 – $25
GET TICKETS »
John "JoJo" Hermann (Widespread Panic) and Big Chief Juan Pardo
feat. Kirk Joseph (Dirty Dozen Brass Band, John Medeski's Mad Skillet)
Jake Eckert (New Orleans Suspects, Dirty Dozen Brass Band)
& Eddie Christmas
Friday, December 8th 2023
Charleston Pour House
Main Stage
8:00pm doors /9:00pm show
$20 advance /$25 day of show
John "JoJo" Hermann (Widespread Panic) and Big Chief Juan Pardo
JoJo Hermann and Mardi Gras Indian Chief Juan Pardo are once again combining forces to bring the New Orleans Funk and Mardi Gras Indian Culture to ya'.
With an all-star lineup of NOLA based musicians (Kirk Joseph, Jake Eckert and Eddie Christmas), this show promises to comprise a special night of funk meets the living art & history of the Mardi Gras Indian tradition.
JoJo to start the evening with a set of solo piano with Big Chief and Co. to follow…and a finale collaboration celebrating the music and magic of the funkiest city on Earth… New Orleans, Louisiana.
If you like it "fonky", this show is for you…
Sam Holt Band
Sweet, lowdown, and introspective, Sam Holt writes rock songs that are heartfelt and poignant expressions of life experiences that reflect his southern roots. Holt is well known for his guitar tech skills for the late Michael Houser of Widespread Panic, and for his own national touring band Outformation.
Sam Holt  put his own name front and center with the newly assembled Sam Holt Band, which is anchored by Holt's distinguished guitar technique – no pick, all thumb! Sam Holt Band brings a hypnotic amalgam of outlaw twang, southern power pop, and face-melting hard rock riff-age. "I really just write from my heart. The music is out there, if I can get out of my own way it's easier for a song to form," says Sam.
Born in Nashville, TN, Holt spent his youth surrounded by southern rock. The first bands Sam remembers liking were The Charlie Daniels Band and Elvis Presley. Once his mom brought home KISS Alive II, he knew music would be a major part of his life. Graduating from Middle Tennessee State University with a degree in recording engineering Sam went to work at Soundcheck in Nashville. In 2000, Holt became the guitar tech for Michael Houser of the wildly popular Athens, GA band Widespread Panic.
"Sam's got that hypnotic thing. He kinda gets into that trance when he plays, and all my 
favorite guitar players have that ability to somewhat become hypnotized themselves. Mikey (Houser) and Junior Kimbrough – there was a hypnotic thing, and I think Sam has that. It's 
a big part of what drew me to him." , says Sam's former Outformation producer and Widespread Panic keyboardist JoJo Hermann. 
* Show is 21+. Attendees under the age of 21 must be accompanied by a parent or guardian. Attendees under 21 will be subject to a $5 surcharge. The surcharge must be paid in cash at the door on the day of the event.