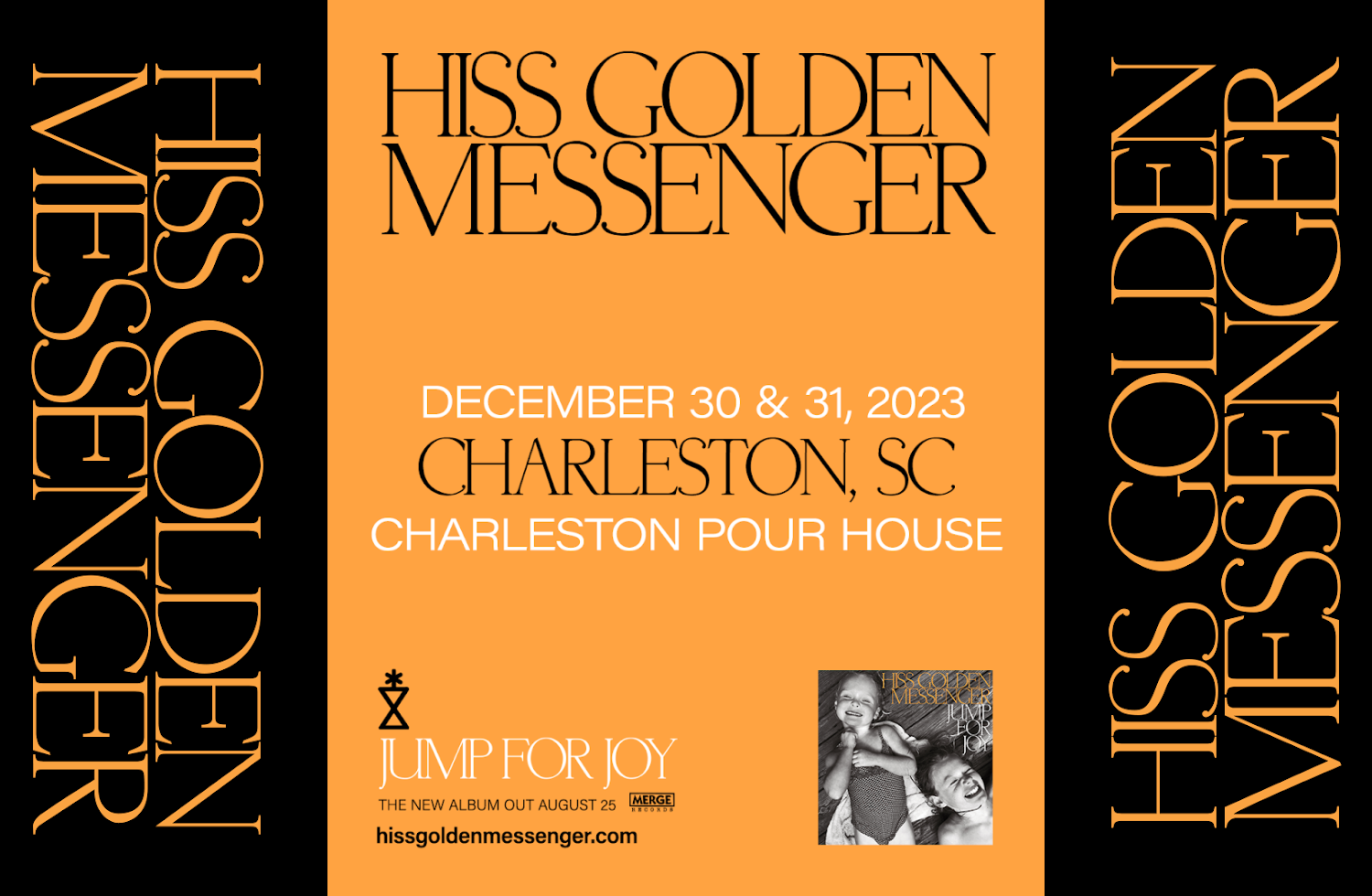 Hiss Golden Messenger
December 30 @ 9:00 pm

-

1:30 am

|

$31 – $36
GET TICKETS »
An Evening With Hiss Golden Messenger
December, 30th and 31st 2023
Charleston Pour House
Main Stage
2 sets per night
8pm doors /9pm shows
ticket prices:
$31 advance /$36 day of show
$52 – 2 night package tickets
$101 – VIP Ticket Package Includes:
• One general admission ticket to see Hiss Golden Messenger live
• Hear M.C. Taylor play some songs featured in current setlists
• Q&A: Ask M.C. some questions (Got questions about gear? Songwriting? Ask away!)
•.Take a group photo
•.Tour poster signed by M.C.
• Commemorative VIP laminate
• Hiss merch shopping before doors open to the public
• Early entry into the venue!
$1 from every ticket goes to support the Durham Public Schools Foundation whose mission is to foster community support for public schools and invest in our students, educators, and families to ensure success and equity for every student.
Hiss Golden Messenger
It's spring of 2023 in the North Carolina Piedmont, and songwriter and singer M.C. Taylor—leader of the band Hiss Golden Messenger—is feeling alive. Joyful. Eternal, he might say. For the Grammy-nominated musician, whose albums have traced an internal path through adulthood, fatherhood, spirituality, and depression for well over a decade, this is something new. "The tunes on Jump for Joy were composed in free moments throughout 2022, a year during which Hiss was on the road more or less constantly," explains Taylor. "And perhaps because the post-pandemic energy out in the world felt so chaotic and uncertain, I found myself thinking a lot about the role that music has played in my life and how exactly I ended up in the rarefied position of leading a band and crew all over the globe through dingy graffiti-scrawled green rooms, venerated music halls, dust-blown roadside motels. Sometimes playing in front of 5,000; sometimes 200. Sleeping sitting up. Laughing until my stomach hurts. Not being able to fall asleep at 3 a.m. in some anonymous bed because my mind is spinning with anxiety or depression or adrenaline, or because my ears are still ringing. Robbing Peter to pay Paul, then robbing Paul to pay Peter back. Over and over again. It's an outlaw life but one, I'm coming to realize, that makes me happy."
The songs that make up Jump for Joy—the sharpest and most autobiographical that Taylor has written under the Hiss name—read as a sort of epistolary, postcards between the present-day songwriter and his alias Michael Crow, a teenaged dreamer very much like Taylor himself, who trips his way through the 14 tunes that make up the record. In this way, Jump for Joy is a meditation on a life lived with art, and the ways that our hopes and dreams and decisions bump up against—and, with a little bit of luck, occasionally merge with—real life. "Creating this character became the way that I could explore these vulnerable, tender moments that were so decisive in my life, even if I didn't know it at the time," explains Taylor. He continues:
Through Michael Crow, I was able to get inside these places that exist so deep in my sense memory: Me at 16, knowing intuitively that there had to be something out there for me, something mysterious and divine that wasn't full of fucked-up, confusing pain; me with my hardcore band, age 18, wandering the vast expanses of Texas beneath a big, fat tangerine moon, scrounging change to fill the gas tank, trying to make a soundcheck for a show that never happened. There's me at 30, having kids, writing songs as though they were gravestone epitaphs, not yet understanding that nothing is so permanent and serious and that I needed to be gentler with my spirit. There's me at 35, still chasing the thing because I've touched it once or twice and I know it's the only way for me to feel whole and real and useful, but in the rear-view mirror, I can see everyone who gave up in search of something easier and not so heartbreaking.
Produced by Taylor and engineered by longtime Hiss compatriot Scott Hirsch over two weeks in the late fall of 2022 at the fabled Sonic Ranch studio in Tornillo, TX, just a short walk from the Mexican border, Jump for Joy dances with joyful, spontaneous energy that feels like a fresh chapter in the Hiss Golden Messenger oeuvre. Taylor is accompanied throughout the album by his crack live band: guitarist Chris Boerner, bassist Alex Bingham, keyboardist Sam Fribush, and drummer Nick Falk, a collection of musicians that have helped make Hiss Golden Messenger's live performances legendary affairs.
Consider opening track "20 Years and Nickel," a thematic preamble that finds Taylor reckoning with the 25 years (or, "20 years and a nickel") spent trying to write some kind of masterpiece over a rolling second-line groove that wouldn't sound out of place on a Meters record. Three songs later, "Shinbone" contemplates the span—geographically, temporally, and emotionally—from Taylor's childhood fence-hopping days, the smells of sage and eucalyptus in the air, down the winding road to the present. "You ever had a storm talking to you?" he asks, the rhythm locked in a four-on-the-floor groove over a slippery synth line before hitting the mantra-like refrain: If you lose it all, can you love what's left?
The band finds a righteous stepping rhythm on the anthemic "Nu-Grape"—named after a saccharine grape soda available throughout the Southeast—as Taylor, speaking through the metaphor of a gravestone cutter, considers the futility of working towards permanence: "Cutting stone ain't easy," he sings, "but it's how I earn my way. Some want doves and marigolds; give me a stone that says, 'Don't cry, it's only a joke.' Does that feel true enough for you?" Friends Aoife O'Donovan and Amy Helm (daughter of drummer Levon) join in on the Mary Oliver–channeling chorus:
I was fire. You said I couldn't live without water. You were water. Water to put out the fire. I'm just a nail in the house of the universe, drinking Nu-Grape with a five-dollar bill.
"The Wondering" is classic Hiss Golden Messenger, an emotional meditation on art and memory (and housebreaking) set to a heart-rending riff, over which Taylor recalls, "Back in the day I was Michael Crow; I'd go creeping through the houses. Oh, the things I'd see through those country windows were enough to make you cry out" before being joined by O'Donovan and longtime friend (and Fruit Bats leader) Eric D. Johnson. "I'm still here—just can't quit wondering," the trio harmonizes. "I'm still here with my back to the wondering."
Jump for Joy, perhaps more than any other Hiss record heretofore, is an elegant and nuanced melding of everything that makes Taylor and company's work unique and beloved, colored with an outward-facing elation and sense of openness that elevates the album into something truly timeless and special. "I knew that I needed this record to be full of joy because if we're standing at some kind of finish line of human civilization—and I'm not saying that we are, but some days it sure feels that way—then I want to go out dancing," laughs the songwriter. "That's what I wanted Jump for Joy to feel like: Dancing at the end times."
* Show is 21+. Attendees under the age of 21 must be accompanied by a parent or guardian. Attendees under 21 will be subject to a $5 surcharge. The surcharge must be paid in cash at the door on the day of the event.