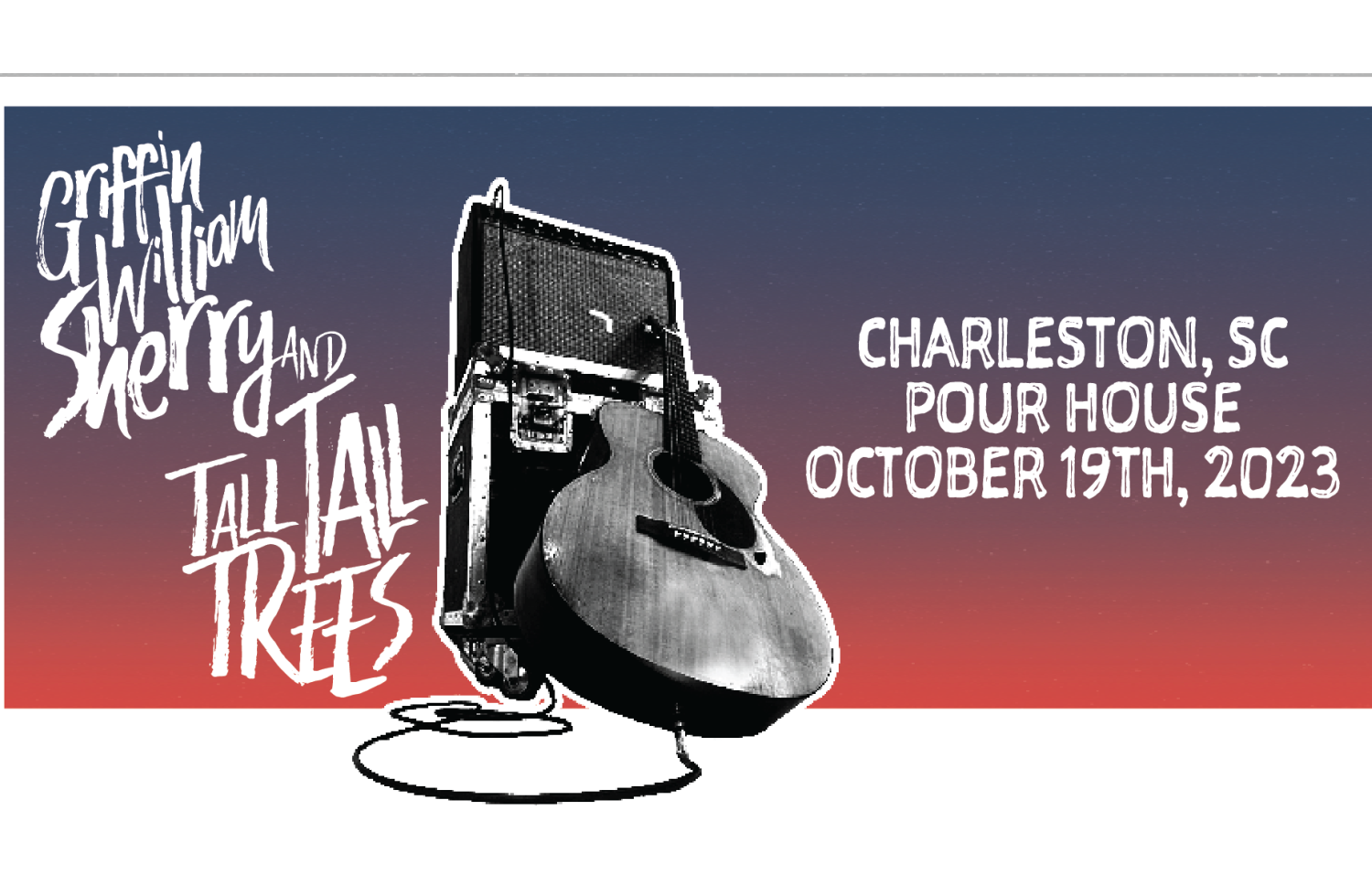 Griffin William Sherry & Tall Tall Trees
October 19 @ 6:00 pm

-

9:00 pm

|

$16 – $20
GET TICKETS »
Griffin William Sherry & Tall Tall Trees
Thursday, 10.19.23
Charleston Pour House
Deck Stage
5pm doors /6pm show
$16 advance /$20 day of show
Griffin William Sherry
Living somewhere in-between modern catharsis and American myth, Griffin William Sherry's roots continue to grow strong in the ever-evolving genres of Folk, Americana and Rock & Roll.
Griffin's music is inspired by his New England rural roots. As such, he cobbles together an inimitable signature style, visceral and heartfelt, loud and passionate, each song taking on a voice of its own.
In 2011, He co-founded the independent band The Ghost of Paul Revere, capturing the hearts and minds of countless fans with a series of acclaimed releases and sold-out shows everywhere. He helped establish his own music festival, performed on national television, and garnered millions of streams. In 2019, his song The Ballad of the 20th Maine became the official Maine State Ballad, securing The Ghost of Paul Revere's place in Maine music history.
In 2022, after writing music for seventeen years, Griffin's begun work on his first solo record, taking a defiant step in a new direction.
Tall Tall Trees
Tall Tall Trees is the musical id of songwriter and multi-instrumentalist Mike Savino, a pioneer in the realm of experimental, DIY banjo music. Accompanied by his trusty Banjotron 6500, a highly customized, electrified banjo and effects pedal setup, Savino has wowed audiences since the 2009 debut of his self-titled debut album with his eclectic and innovative blend of psychedelic folk, rock and world music. His work seems to actively evade comfortable definition, upon first listen one will recognize the tenderness of Cat Stevens, the melancholy introspection of Elliott Smith, the anthemic psychedelia of Pink Floyd, and a deep abiding respect for Earl Scruggs. Savino often performs solo, showcasing his fleet-footed loop pedal mastery, as well as alongside long-time collaborator and fellow innovator, Kishi Bashi. Tall Tall Trees latest release, A Wave of Golden Things was released in 2020 on Joyful Noise Recordings.
A Wave of Golden Things, his fourth studio album, opens with the distant crow of a rooster and takes off in a dust cloud of swirling banjo, drums and bass. The lead off track, "The Wind, She Whispers," quickly evolves from a droning mountain melody into full-blown banjo funk, setting the precedent for an album of unexpected turns. Though the banjo is heavily featured, the influence of Pink Floyd, and Cat Stevens can be felt as much as banjo mavericks Earl Scruggs, and Bela Fleck.
Savino, who self-records and produces his music, abandoned the heavily-layered textures of 2017's Freedays for a more organic, stripped-down approach, leaving his distinct voice and thoughtful lyrics as the centerpiece. Despite the sparse arrangements, Savino still manages to evoke the sonic imagery and pastoral landscapes that have often been hallmarks of Tall Tall Trees albums. Each of the eight songs that make up A Wave of Golden Things suggest a world unto itself, from the cosmic country-tinged, "Ask Me Again," to the sprawling underwater lullaby "Deep Feels."
Opting for an immersive experience over a traditional studio, Savino set up residence and a mobile recording rig on a hemp farm in the Appalachian mountains outside of Asheville, North Carolina, where he now resides. Recorded in just under three weeks, with much of it arranged on the spot, the album maintains a sense of immediacy, celebrating raw performance over perfection. "I'm giving up on my expectations, let them go and see where it takes us," Savino sings on "Expectations," almost seeming to revel in this experimental process.
Savino's voice, left unadorned, can be simultaneously gentle and strong, at times sage-like in delivery. On the album's closing title track "A Wave of Golden Things," his soft spoken meditations on mental health reflect a new maturity in his song craft and singing. As the song develops, Savino's voice gains confidence and his whisper becomes a fragile cry, neither full-throated nor fully secure, but at home in a warm bed of upright piano and echoing tape delay. "We all need a little peace and love right now," he sings as if he's at the end of his breath.
Reflective of the dark and challenging times of today, Savino's message is ultimately one of hope and finding peace of mind in the chatter of the modern world. The last chorus reaches towards a transcendent beauty in the darkness, and makes a promise: "a wave of golden things, it waits for you."
* Show is for all ages. Attendees under 18 must be accompanied by a parent. Attendees under 21 will be subject to a $5 surcharge. The surcharge must be paid in cash at the door on the day of the event.