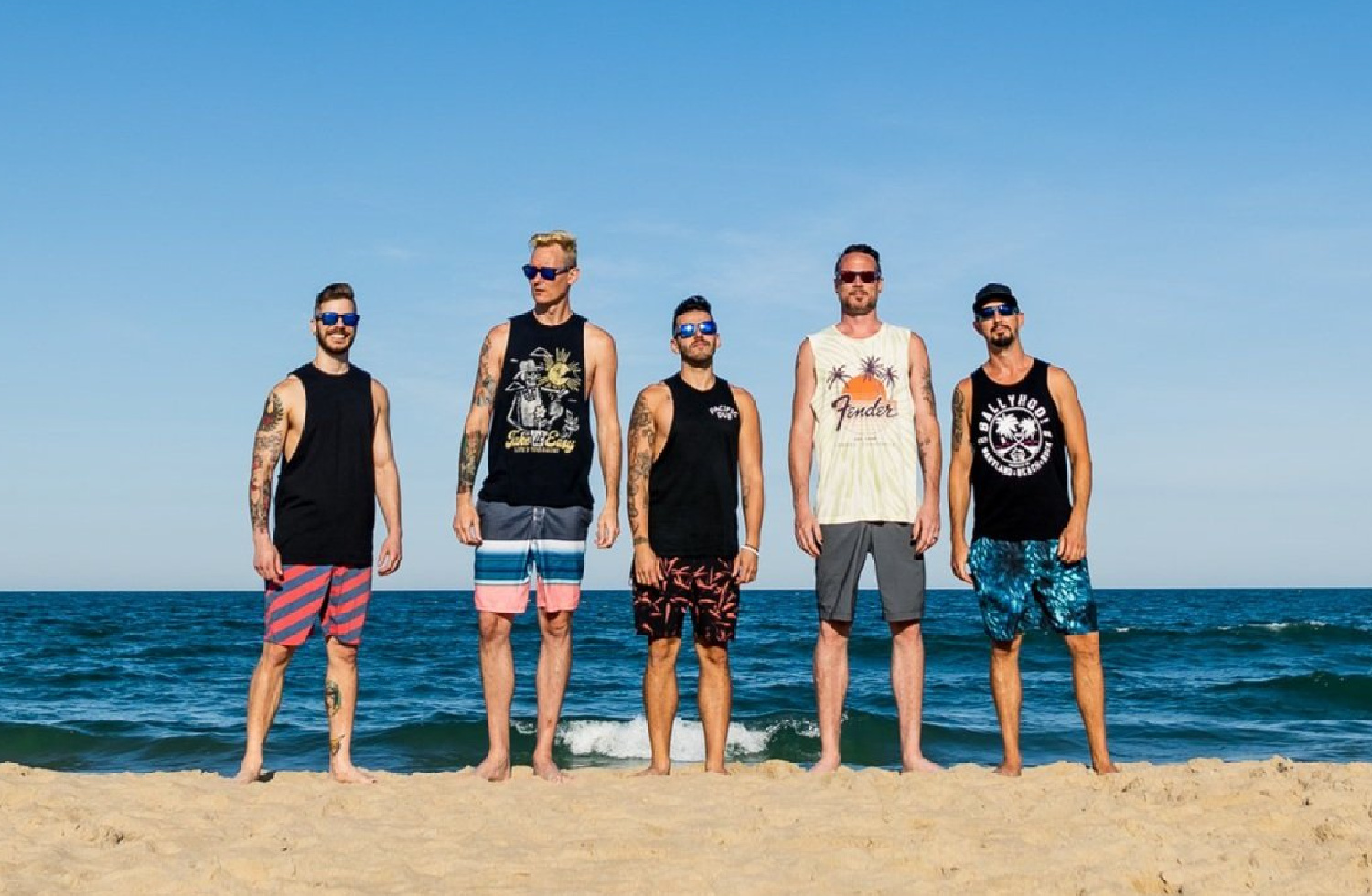 Ballyhoo
May 30 @ 8:00 pm

-

1:30 am

|

$20
GET TICKETS »
Ballyhoo
w/ The Harbor Boys
Tuesday, 5.30.23
Charleston Pour House
Main Stage
7pm doors /8pm show
$20 advance /day of show
Ballyhoo
A rock band with punk energy and pop reggae grooves, Baltimore's BALLYHOO! are a fun, fan-loving powerhouse. These road dogs have tirelessly toured coast-to-coast taking their music to the people. Between the road and the studio, BALLYHOO! have crafted a sound distinctly their own; fresh, fun, and embodied by the soul of the party lifestyle. Lead singer and guitarist, Howi Spangler, has a reputation for mixing slick lyrics with his smooth but powerful voice. Drummer Donald Spangler lays out the hard-hitting beats. Scott Vandrey layers in the finishing touches to the band's signature sound on keys. The guys recently welcomed Nick Lucera as their new bass player.
BALLYHOO! released their 5th studio album Pineapple Grenade on June 25th 2013. It broke through the Billboard Top 200 at #189 as well as reaching #4 Billboard Heatseekers and #5 at iTunes Alternative charts.
The album features "No Good," produced by Rome Ramirez (Sublime with Rome) and mixed by Paul Leary (U2, Sublime); while the first single "Run" saw an early radio add from KRAB Bakersfield and early radio spins by KROQ Los Angeles, WHFS Baltimore, KTCL Denver, and KCXX Riverside among others. Alongside the album release, BALLYHOO! co-headlined the 2013 Summer Sickness Tour with Authority Zero and special guests Versus The World. Pineapple Grenade is the band's follow-up to the 2011 LAW Records release of "Daydreams," which debuted at #1 on the iTunes Reggae Charts and #4 on Amazon.
BALLYHOO!'s unique yet melodic blend of genres, along with their hardcore devotion to the road and their fans have pitched them into snowballing success. The band has performed with a myriad of national touring acts; 311, Slightly Stoopid, SOJA, The Dirty Heads, Matisyahu, and more. Tour highlights include the 2011 311 Pow Wow Festival, the 2012 and 2013 311 Caribbean Cruise, Bamboozle 2012, 2012 Charm City Music Festival, 2013 Cali Roots Festival & the entire 2012 Vans Warped Tour. In 2011, after concluding the Last Calls and Liabilities tour with respected contemporaries, Pepper, they were honored with being included on the ever-popular Hollister Holiday Playlist. They were listed on MTV's Top 100 Bands to Watch and even featured 2 downloadable songs on the popular video game ROCK BAND.
The Harbor Boys
Before The Harbor Boys Cody Woolsoncroft was playing acoustically on open mic nights across Maryland spanning from 2012-to 2014 as a hobby. This eventually led to him working with a local label that helped him make connections with fellow musicians Joey Harkum of Pasadena, Brandon Hardesty of Bumpin Uglies, Ray Wroten of Bond and Bentley, and more. This opened new doors for Cody as he began playing bars all over the state of Maryland professionally, which eventually allowed him to play at Rams Head Live in Baltimore. Once he saw that stage and felt the energy of the venue is when Cody first put together the goal of starting a band that would become The Harbor Boys.
The Harbor Boys are Born
In 2017, The Harbor Boys were assembled for the first time as the band played their first-ever show opening for Bond and Bentley. Afterward, the band did not stop and with Cody behind the wheel, the band continued to strive for success with the gas pedal down. The band achieved some early success and as the years moved forward, they were eventually granted the opportunity to play Weekend at Wolfies and Frozen Harbor. Through the years they had to endure many lineup changes, but the core kept powering through as they continued to grow musically.
Hard Times
In 2020, the band faced numerous obstacles such as Covid which closed a lot of the venues and bars where the band gained their popularity. This did not deter them as they kept working hard through the pandemic and came out on the other side stronger than ever. They used this time to enhance the overall show and added a few new songs to their collection. Another highlight from this period is the addition of Drummer Dave Correa. Not only did he bring the heavy-hitting drumming style that he developed from years of Metal and other rock genres, but he also brought a management style mentality that he gained from 10 years on the road as Tour/Stage Manager with multiple bands. This experience helped the band not only maintain but enhance their equipment to play any show no matter the stage or venue.
Rebranded
The band added Andrew Hall on Bass after Andrew's Company Gingy Productions filmed the music video for "My Own Way" for The Harbor Boys. This proved to be a vital addition as he provided a wide variety of new attributes and helped solidify the bands on stage show with his high energy antics (No bar top is safe!) and a Bass playing style that was forged from years of playing with punk rock bands. Andrew with knowledge of social media has also helped rebrand HB across the board to show that they are not stagnant but constantly evolving into something even bigger and better than no venue can contain. The year 2021 also brought new management to the team with Nick Mariano joining with his love of music mixed with his business background in both management and sales. With all the skillsets of the new HB lineup, the band became much more than just a reggae band. They have a Rock and Roll attitude/style that can fit them into any Punk, Metal, or Reggae show/environment both musically and stage presence. With all the new energy, 2021 took an exciting turn which led to a jam-packed year with the band playing every week (sometimes multiple times a week) for 5 straight months. In this span, the band played venues such as Power Plant Live Main Stage, Baltimore Soundstage, Morely Hall, The Jellyfish Festival, and many more. In addition, HB also played with some of the biggest names in the Reggae rock scene with Ballyhoo, Tropidelic, Bumpin Uglies, Kyle Smith, and many more.
Future
The band is currently recording their first album that they are hopeful to have released by this summer of 2022. But working on the album has not stopped the band from booking shows from Winter until the fall of 2022. HB is very excited to see what 2022 brings as they continually strive for greatness in all aspects of what makes The Harbor Boys… Reggae, Punk, Rock.
* Show is 21+. Attendees under 21 must be accompanied by a parent & will be subject to a $5 surcharge. The surcharge must be paid in cash at the door on the day of the event.