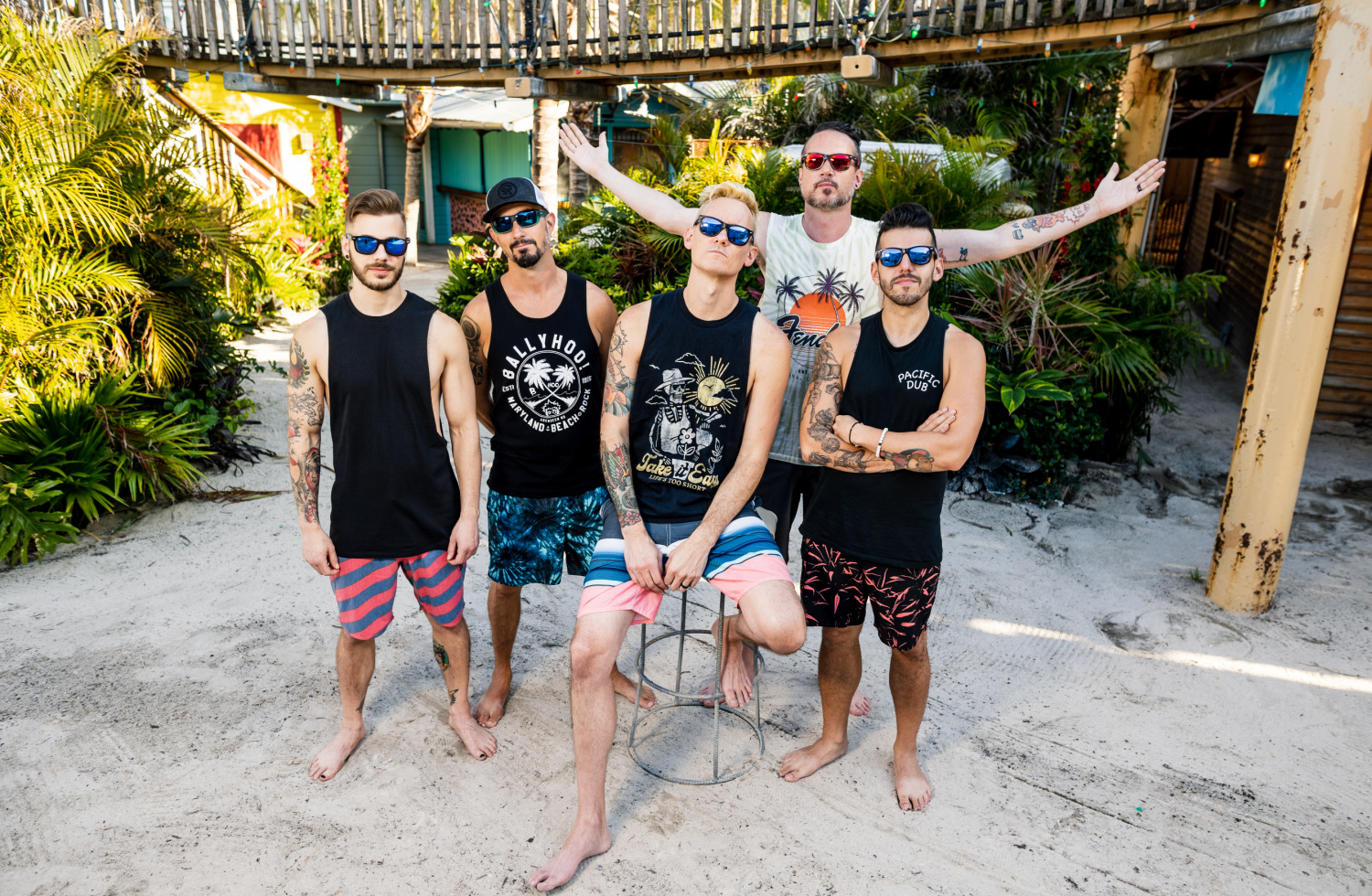 Ballyhoo!
December 5 @ 8:30 pm

-

1:30 am

|

$20 – $25
GET TICKETS »
Ballyhoo!
w/ Green Knuckle Material
Tuesday, 12.5.23
Charleston Pour House
Main Stage
7:30 doors /8:30 show
$20 advance /$25 day of show
Ballyhoo!
Through 25 years and eight independent albums, the last four on their own Right Coast Records, Ballyhoo! have earned the exclamation point which marks their name. Starting in the basement of their mom's Aberdeen, MD, home, rocking out on guitar and drums respectively, practicing every day, brothers Howi and Donald Spangler formed the proto-punk band in the mold of Green Day and Nirvana, with an eye towards the emerging ska genre led by Goldfinger, Sublime, 311 and No Doubt.
The group's eighth and most recent studio album, the breezy, ska-fueled, hook-filled Message to the World, on their own Right Coast Records, finds the self-declared "beach-rockers," having grown up in public, accepting the responsibilities of adulthood while still hanging on to their dreams of world domination.
With its newest members now veterans – keyboardist Vandrey has been in the band since 2000, while bassist Lucera joined in 2014 – Ballyhoo! is ready for what the future brings. Stylistically, their music ranges from the hard-edged punk of 2018's Detonate, which captured the feelings of anger and depression from dealing with personal loss and the exhaustion generated by over a decade on the road, to the island reggae beats of the follow-up, Message to the World.
"Whatever you want to achieve, just focus on that and work towards it," explains Howi about the Ballyhoo! ethos. "Don't worry about followers, views or even money. Just keep making good stuff. One day it may be possible to finally quit that day job and live your dream full time."
Ballyhoo! is still doing just that, purveying good vibes, positivity and fun live shows meant to take you away from real life for just a little bit.
Green Knuckle Material
Formed in 2016, the New Jersey band, Green Knuckle Material (GKM) embarked on a musical journey that initially started as a 5-piece rap-rock force. Through a transformative process filled with experimentation, Green Knuckle Material discovered their true sound: an irresistible fusion of pop-punk elements that captivates audiences with infectious melodies, powerful hooks, and relatable lyrics.
Green Knuckle Material's musical transition from rap-rock to pop-punk was a labor of love. Through countless hours of songwriting and soul-searching, the band embraced the challenge of finding a sound that truly resonated with their artistic vision. Their dedication and perseverance led to a musical metamorphosis, resulting in a captivating sound that combines the raw power of pop-punk with catchy hooks and an unwavering commitment to authenticity. A prime example of this metamorphosis was well-encapsulated in one of their most recent releases, "Julia", which garnered over 100k Spotify streams in only its first few months. Listeners can clearly hear the inspiration drawn from bands like All Time Low, Fall Out Boy, and Panic! at the Disco.
In 2019, Green Knuckle Material achieved a significant milestone as winners of the esteemed Stone Pony Rock to the Top Competition. This triumph recognized their electrifying performances and unique sound, solidifying their status as a rising force in the music industry, as well as creating more exciting opportunities. Since then, Green Knuckle Material has shared the stage with acclaimed artists such as All Time Low, We The Kings, Rebelution, Badfish: A Tribute to Sublime, Ballyhoo!, Rise Against, Dashboard Confessional, and many others. These experiences have not only expanded their ever-growing fanbase but also honed their craft, leaving an indelible mark on their musical journey. Furthermore, with their groundbreaking headline show at the renowned Stone Pony, Green Knuckle Material showcased an unforgettable performance that highlighted their electrifying stage presence and boundless energy.
In addition to playing with prestigious acts and headlining big venues, Green Knuckle Material has also managed to take what was once nothing more than a fledgling back-yard party in its infancy, and grow it into a full-fledged music festival featuring national touring acts. This year alone, despite weather challenges, the festival sold over 700 tickets, and Green Knuckle Material only plans to bring back Bayville Fest bigger and better next year, and every year thereafter.
As they continue to carve their path in the pop-punk realm, Green Knuckle Material remains driven by a shared passion and an unyielding determination to leave an indelible mark on the music industry. Their irresistible hooks, heartfelt performances, and a sound that shatters boundaries position Green Knuckle Material as an emerging force in the pop-punk landscape that will redefine the genre for generations to come.
* Show is 21+. Attendees under 21 must be accompanied by a parent & will be subject to a $5 surcharge. The surcharge must be paid in cash at the door on the day of the event.