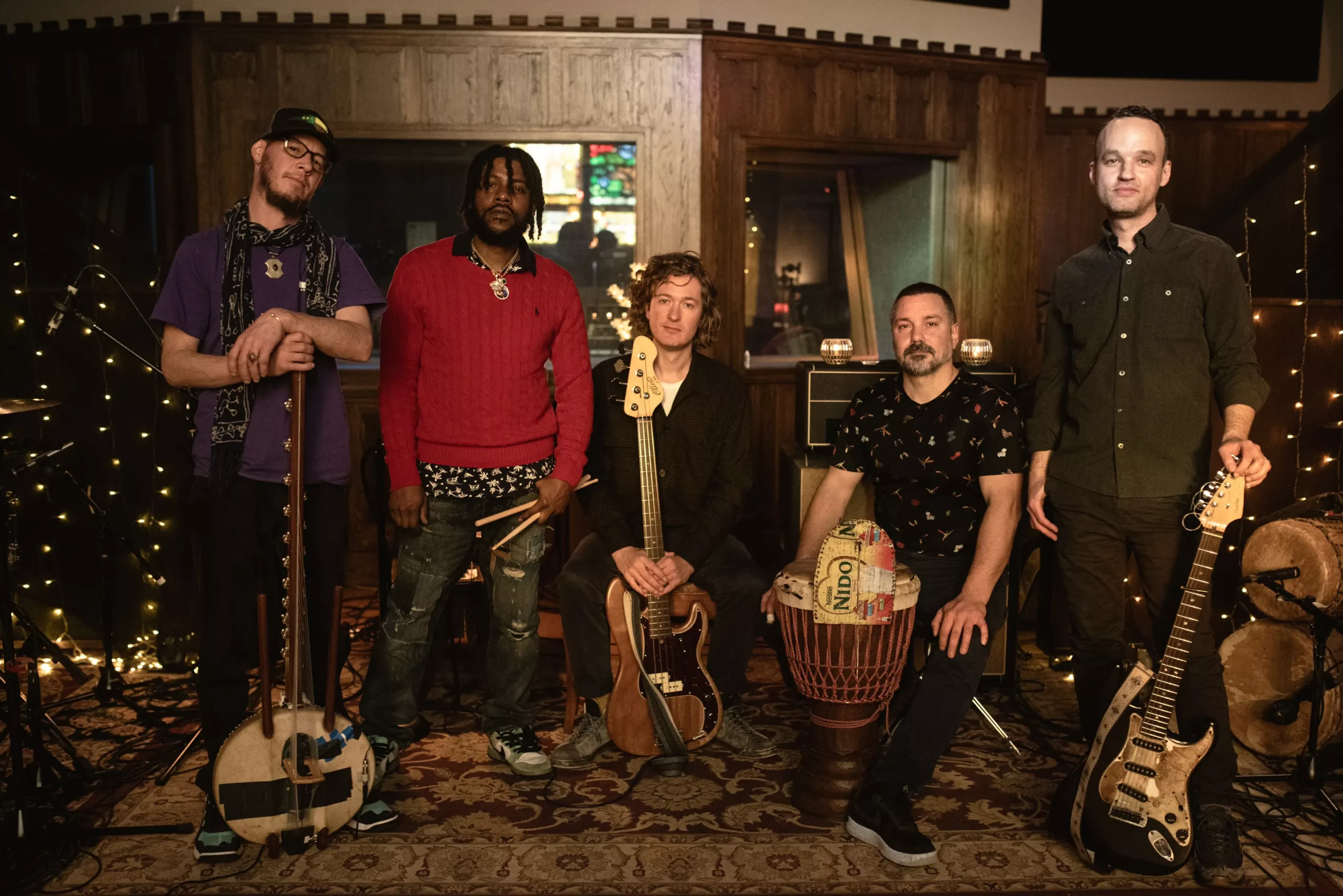 Toubab Krewe
December 15 @ 9:00 pm

-

1:30 am

|

$18 – $20
GET TICKETS »
Toubab Krewe
w/ DJ Logic
Thursday 12.15.22
Charleston Pour House
Main Stage
$18 advance /$20 day of show
8pm doors /9pm show
Toubab Krewe
Some music cannot be found on a map or within iTunes categories. Some music is so original it seems snatched from the great, invisible substrata that runs below all human activity, a sound aching to be born without a flag or fixed allegiance – free, questing, overflowing with immediate, tangible life. This is the music of Toubab Krewe, the vibrant Asheville, NC-based instrumental powerhouse that creates a sonic Pangaea that lustily swirls together rock, African traditions, jam sensibilities, international folk strains and more. While nearly impossible to put into any box, it takes only a few moments to realize in a very palpable way that one is face-to-face with a true original who recognizes no borders in a march towards a muscular, original, globally switched-on sound.
Formed in 2005, Toubab Krewe has tenaciously honed their craft through relentless touring and a fierce dedication to carving out something they can truly call their own. The fruits of this hard work can be heard on their latest release, STYLO, (March 2nd, 2018). What Justin Perkins (kora, kamelngoni, guitar, percussion), Terrence Houston (drumset), Drew Heller (guitar, organ), Justin Kimmel (bass, keys), and Luke Quaranta (djembe, dunun, sangban, kenkeni, kryn, karenye) have wrought on STYLO reflects the many miles and musical journeys that have transpired since their last studio album, TK2.
This is a band that actively draws inspiration from whatever source floats into their purview, something they've exhibited in their decade and a half of heavy gigging, including regular appearances at major U.S. festivals like Bonnaroo, High Sierra, Electric Forest, Wakarusa, Hulaween, and abroad at such legendary gatherings as the Festival In The Desert in Essakane, Mali, Shanghai World Music Festival, and Jam Cruise. Whether on their own or collaborating with luminaries like the Last Poets' Umar Bin Hassan, Uncle Earl's Rayna Gellert, or Weedie Braimah, Toubab Krewe has already earned the attention and respect of a broad musical community.
Toubab carries echoes of African greats like Ali Farka Toure, Orchestra Baobab and Salif Keita, no doubt picked up during the group's travels to study and live in Guinea, Ivory Coast and Mali. But what truly differentiates Toubab Krewe from other Statesiders inspired by African music is how they innovate on what they've learned instead of simply recreating tradition. Toubab Krewe carves out a new trail honoring the African originators they admire by making something alive and contemporary.
Dj Logic
The theorem of turntablist as musician has been long proven in the capable hands of DJ Logic, whom with jazz as his foundation has become a wax innovator by crossing genres and mixing his sound across the map. As one of the world's most accomplished turntablists, DJ Logic is widely credited for introducing jazz into the hip–hop realms and is considered by most as a highly-respected session musician and an innovative bandleader.
Since his emergence in the early nineties amidst the Bronx hip-hop scene, the New York City based deejay has been amassing a veritable mountain of collaborations, including a full-fledged band with members of Blues Traveler (The John Popper Project ft. DJ Logic), a trio with Steve Molitz & Freekbass (Headtronics), a jazz project with Georgian prodigy Beka Gochiasvili, and as a member of Grammy-winning Arturo O'Farrill & The Afro Latin Jazz Orchestra's The Offense of the Drum album. He also has a long list of other collaborations with artists ranging from the likes of Bob Weir, John Mayer, Medeski Martin and Wood, Christian McBride, O.A.R., Carly Simon, Marcus Miller, Jack Johnson, Vernon Reid, Warren Haynes, Charlie Hunter, Jack DeJohnette, Ben Harper, Mos Def, The Roots, Bernie Worrell, Bill Laswell, Melvin Gibbs, Fred Wesley, Sean Kuti and many more.
DJ Logic and his role as an electronic-music ambassador keeps him at the top of his game. Whether the scratch artist instructs tablas to flirt with drum 'n' bass (such as on his Nina Simone and Billy Holiday remixes found on Sony Legacy's Remixed and Reimagined volumes), meshes free styling MC's with Afro-Cuban rhythms (such as on 'Share Worldwide Funk' – a remix produced for Jack DeJohnette and Golden Beams Collected, Volume 1), or remixes tracks for rock bands such as Moon Taxi, DJ Logic can always be found paying homage to his predecessors while contributing his vision to the deejay genre.
While the context of his work may vary, DJ Logic's spinning skills are definitely beyond reproach. He works with a phenomenal roster of invited guests, and he knows how to pick his collaborators as well as his samples. With a growing catalogue of recordings under his belt, DJ Logic's supreme musicianship and eclectic tastes will allow him to journey wherever an infectious groove may take him.