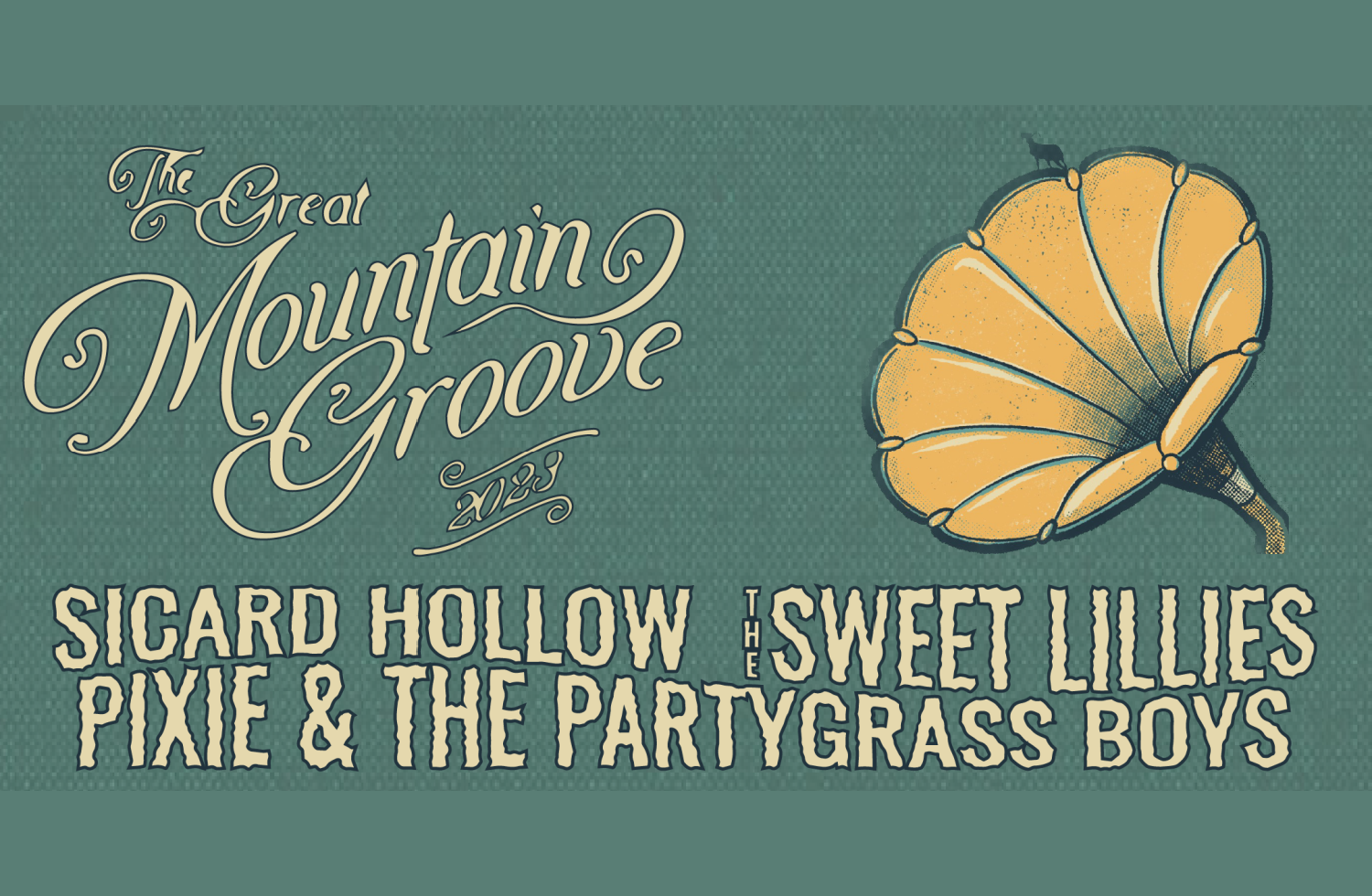 The Great Mountain Groove
February 14 @ 8:00 pm

-

1:30 am

|

$15
GET TICKETS »
The Great Mountain Groove
ft. Sicard Hollow, The Sweet Lillies, and Pixie & The Partygrass Boys
Tuesday Feb. 14th 2023 (Valentines Day)
Charleston Pour House
Main Stage
7pm doors /8pm show
$15 advance /day of show
Sicard Hollow
Nashville's psychedelic punk-grass rockers, Sicard Hollow, grew up sick of any existinginstitution telling them who and what to be. Now, as they navigate adulthood, they'reequally tired of the music institutions telling them what their music should sound like—so they dunked it in patchouli and a skate-and-destroy ethos that brings an enduringsound into the modern age.Before the band met in 2018, none of the members ever considered playing bluegrass. MattRennick (violin) was working on electronic music, Will Herrin (mandolin/vocals) wasplaying guitar in rock bands, and Alex King (guitar/vocals) was barely playing music atall. After a few jam sessions, the bluegrass just kind of happened. Since adding ParrishGabriel (bass) in the Fall of 2019, the band has been on a journey of self discovery withinthe genre while challenging themselves to make it their own.Whether it was skateboarding or chasing jam bands, singer/guitar-player Alex Kingalways had a fierce desire to succeed on his own terms. He spent years as an artistwithout an art-form, searching for a home by pouring every bit of his sweat and heart intoanything he was doing. "It took years for me to land on music," King says, referencing"This I Know" from the album, "but when I found that fire inside my heart, I found myhome."It just so happened that finding that home coincided with the shutdown of live music dueto the pandemic that canceled the entire release tour supporting their debut studio record,'Secret of the Breeze.' During that time, the band turned inward to reflect on their identityand how they could add their generation's voice to a timeless genre of music. The result,with the help of producer John Mailander (Billy Strings, Bruce Hornsby) andRecording/mixing engineer Dan Davis (Billy Strings, Zac Brown Band, Dierks Bentley),was a combination of pop-punk melodies, psychedelic instrumental breaks, andexistential song-writing all packaged as a bluegrass quartet dressed in tattoos andtie-dyes.Tracks like Herrin's "Escape the Unknown," wrestle with staying true to yourself in aworld seemingly fueled by mob-mentality. This positive skepticism toward themain-stream permeates the entire record. Songs like "Forecast of Life" and "Where I'm At"impress a new-American-Zen that dances through the chaos with a smile on your face. Ifunapologetically being yourself is the key to finding the "Brightest of Days" ahead, thenyou'll hear it here first from Sicard Hollow.
The Sweet Lillies
The Sweet Lillies' music is, first and foremost, heartfelt and collaborative. Those defining traits are given life by the trio of musicians who make up the Lillies, Julie Gussaroff, Becca Bisque, and Dustin Rohleder, who have combined their individual strengths together to deliver powerful narratives of life in song. With their acoustic string-band lineup of guitar, viola, and upright bass given flight by ethereal, vocal harmonies that float like a dream, the Sweet Lillies' music has an old-time soul with a forward-looking eye. The Sweet Lillies have incorporated all of their cumulative life-experiences into their music, their song-writing, and their artistry, crafting an uncommonly-beautiful style they have christened String-Americana – a nod to the band's all encompassing musical tastes and willingness to experiment with genres. As Gussaroff explains, "Some musicians learn from teachers, some learn from family members, and some are self taught. Some musicians are classically trained, some come up through folk, some draw from multiple springs, from hip hop through pop to bebop. In the Lillies' all of these skill sets are valuable, relevant, and appreciated."
The Sweet Lillies are built upon their collaborative ideals and are always ready to share a stage or develop a project with any musicians who share the same no-holds barred creative approach. This has made each one of their inventive, energetic live-shows a wholly unique event as setlists are changed on the fly, songs are given new life and shape, and guests are always welcome to join in the creative explosion. Those on-stage partnerships create a space for incorporating instruments, arrangements, and styles that aren't necessarily typical of the genre, but that help create a rich, compelling sound that defies easy categorization. Over the years they have been joined onstage by a number of legendary performers including, Sam Bush, George Porter Jr., Peter Rowan, Sally Van Meter, Andy Hall from the Infamous Stringdusters, Kyle Hollingsworth and Jason Hahn from the String Cheese Incident, Jennifer Hartswick, and Natalie Cressman from the Trey Anastasio Band, among many others. Andy Thorn from Leftover Salmon who has sat in on many of those live adventures says, "It's always a joy to play with the Sweet Lillies. Over the years, I've seen them evolve from a folk-and-bluegrass group into a genre-bending powerhouse. Today, at a Lillies show, you'll hear everything from their beautiful, soulful originals, to creative reinventions of your favorite 90s hip-hop tracks. They're always ready to have fun – on stage and off – without losing an ounce of their professionalism."
The Sweet Lillies were born from Gussaroff's desire to form a band in which each member would be an equal participant in terms of songwriting, singing, and creative input. After years of accompanying other artists, serving as a side player, and writing songs for others, multi-instrumentalist and classical trained vocalist Gussaroff wanted to establish a true musical-collective that would highlight the best qualities of all involved. In 2014 Gussaroff met Bisque, who was a classically trained violist. The two found an immediate and deep musical connection and the Sweet Lillies were born. In 2017 at a campground jam at the Hangtown Ball they heard guitarist Rohleder. That night the three played for what they remembered as, "Ten magical hours." The following year in 2018, Rohleder joined the Sweet Lillies full-time completing Gussaroff's vision.
Since forming in 2013 the Sweet Lillies have released three albums: 2016's self-titled release, and 2018's A Lighter Hue produced by Leftover Salmon's Vince Herman. Their latest album, Common Ground, produced by Railroad Earth's Tim Carbone, was released last year.
Gussaroff explains, "String band music is compelling. What makes it so universally appealing is the way it lends itself to effective fusion of diverse styles, skill-sets and conceptions." The Sweet Lillies take that notion to heart and do just that with their album and performances that exemplifies their collective spirit and pulls from all the varied arrows in the band's quiver. The Sweet Lilles stay true to the string-band soul that is at the heart of their music, but prove they are also unafraid to explore all corners of their distinct musical experiences. Producer Carbone sums it up best, "The world needs a band like The Sweet Lillies, whose music is positive without denying the darkness in the world. Their songs are uplifting but they also invite the listener to be introspective and draw their own conclusions. Like all great music it does so while taking you on a journey of joy."
Pixie & The Partygrass Boys
Hailed as "the hottest band in the Wasatch" by the Intermountain Acoustic Music Association, Pixie and The Partygrass Boys is composed of lifelong professional musicians drawn together by a common love of bluegrass and skiing in the Wasatch. Featuring soulful, often harmonic vocals and solid strings and rhythm, this tight-knit crew was born out of the belly of a warm cabin after a long day on the slopes- drinking whiskey and singing into the night. With a high energy sound and a love for silly outfits, they travel the land spreading the gospel of whiskey, chickens, and fun for everyone.
* Show is 21+. Attendees under the age of 21 must be accompanied by a parent or guardian. Attendees under 21 will be subject to a $5 surcharge. The surcharge must be paid in cash at the door on the day of the event.