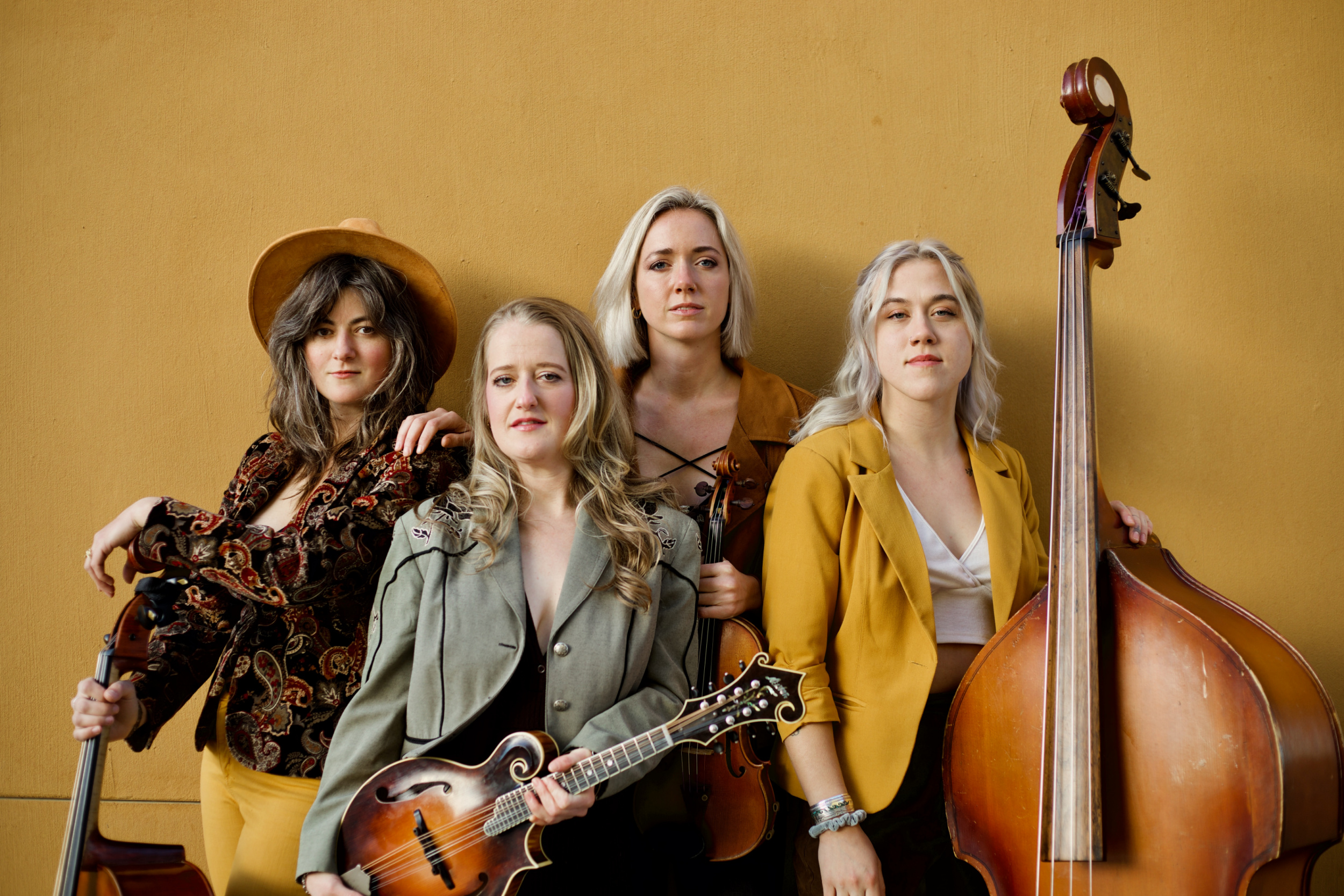 Big Richard
March 26 @ 7:00 pm

-

9:30 pm

|

$12
GET TICKETS »
Big Richard
w/ Sally & George
Sunday 3.26.23
Charleston Pour House
Deck Stage
6pm doors /7pm show
2 sets
$12 General Admission
Big Richard
What began as an all-female festival collab quickly morphed into a serious passion project driven by sisterhood, harmony and humor…along with the shared desire to rage fiddle tunes and smash the patriarchy.
Big Richard is a neo-acoustic super group made up of four well established Colorado musicians: Bonnie Sims on mandolin (Bonnie & Taylor Sims/Everybody Loves An Outlaw/Bonnie & the Clydes), Joy Adams on cello (Nathaniel Rateliff/Darol Anger/Half Pelican), Emma Rose on bass + guitar (Sound of Honey/Daniel Rodriguez/Whippoorwill) and Eve Panning on fiddle (Lonesome Days).
Formed in late 2021, the band gained immediate notoriety for their charismatic stage presence and their vocal/instrumental prowess. After selling out all of their club shows Big Richard quickly started confirming festival appearances across America.
Sally & George
LIKE PUNK ROCK PETER PAN AND BASS-WIELDING TINKER BELL, NASHVILLE FOLK ROCK DUO SALLY & GEORGE HAVE ALWAYS RESISTED SOCIETY'S PUSH TO "GROW UP," AND TOGETHER CULTIVATED A LIFE OF MOVEMENT, FREEDOM, ADVENTURE, AND ARTISTIC INDEPENDENCE. AS MARRIED MUSICIANS, THEY FOUND IN EACH OTHER WHAT PREVIOUS BANDS FAILED TO PROVIDE, A MUSICAL HOME WITH NO BOUNDARIES, AND THEIR NEW ALBUM TAKE YOU ON A RIDE SHOWS THEIR ABILITY TO GROW AND CHANGE TOGETHER. ON THEIR SOPHOMORE RELEASE, THE EFFERVESCENT PAIR JOURNEYS THROUGH TREACHEROUS LANDSCAPES OF PAIN AND LOVE. THE SONICALLY INTREPID COLLECTION TACKLES VICIOUS POLITICAL TERRAIN WITH HOWLING 60'S ELECTRIC GUITAR TONES, A CHANGING CLIMATE WITH CARIBBEAN-INSPIRED UPRIGHT BASS, RACIAL VIOLENCE IN A HYPNOTIC PRAYER, ADDICTION WITH A SWAMPY BACKBEAT, HEARTBREAK AND LOSS THROUGH SOULFUL BALLADS, AND ULTIMATELY RETURNS TO THEIR OCEAN OF LOVE. WHILE THEIR FOCUS MAY HAVE SHIFTED, TAKING ON DARKER, MORE OUTWARD FACING SUBJECT MATTER, THEIR SOUND REMAINS CENTERED ON SYNERGISTIC VOCAL HARMONIES AND INSTRUMENTAL INTERPLAY.
UPRIGHT BASSIST SHELBY MEANS, ORIGINALLY FROM WYOMING AND FORMER MEMBER OF GRAMMY NOMINATED BLUEGRASS BAND DELLA MAE AND GUITARIST JOEL TIMMONS OF CHARLESTON, SC ROOTS ROCK BAND SOL DRIVEN TRAIN FIRST CROSSED PATHS AT A FESTIVAL ON THE TENNESSEE AND VIRGINIA BORDER CALLED BRISTOL RHYTHM AND ROOTS REUNION. A CHANCE ENCOUNTER AT THE MERCHANDISE TABLE LED TO A LONG DISTANCE ROMANCE, THE DISCOVERY OF A MUSICAL CHEMISTRY, AND THE FORMATION OF SALLY & GEORGE (NAMED AFTER SHELBY'S DAPPER GRANDPARENTS). IN 2017 THEY GOT MARRIED IN A WYOMING STATE PARK, TOURED THE US AND AUSTRALIA, AND RELEASED THEIR DEBUT ALBUM. TIP MY HEART WAS FILLED WITH AUTOBIOGRAPHICAL REFLECTIONS ON THEIR COURTSHIP AND ROMANCE, AND WAS PRAISED BY NPR MUSIC FOR IT'S "SPARTAN SPARKLE," DRAWING COMPARISONS TO BUDDY HOLLY, THE EVERLY BROTHERS, AND JOHNNY CASH AND JUNE CARTER.
"SINCE THEN WE'VE BEEN TOURING A LOT (UP UNTIL THIS YEAR), AND WRITING ALONG THE WAY" SAYS TIMMONS, "TAKE YOU ON A RIDE IS LESS ABOUT US, MORE ABOUT LOOKING AT THE WORLD, AND THE STRUGGLES, THE CYCLES OF VIOLENCE AND PAIN, FORGIVENESS AND REDEMPTION THAT ARE HAPPENING AROUND US". THE NEW ALBUM ALSO INCLUDES MORE COLLABORATION FROM OUTSIDE OF THE DUO. "AT THE VERY BEGINNING OF THE ALBUM PROCESS, CO-WRITES WITH ROBBY HECHT, JACOB MEANS, AND MELODY WALKER PUSHED US TO EXPAND INTO LYRICAL IDEAS AND CREATE MELODIC CONTENT BEYOND OUR ORIGINAL LIMITS. AS WE GATHERED SONGS AND MOMENTUM FOR THE NEW ALBUM, THE COLLABORATIONS EXTENDED NOT ONLY TO WRITING, BUT RECORDING, PRODUCTION, AND VIDEO CONTENT." EXPLAINS MEANS.
THE DUO BEGAN RECORDING TAKE YOU ON A RIDE, LAST SUMMER IN LARAMIE, WYOMING AT THUNDERGROUND STUDIOS, THE SAME STUDIO WHERE THEY HAD PREVIOUSLY STARTED THE SESSIONS FOR TIP MY HEART. THUNDERGROUND IS AN "OLD-SCHOOL" RECORDING FACILITY WITH NARY A COMPUTER MONITOR ON THE PREMISES. "WE LIKE TO GIVE THE RECORDINGS A LIVE FEEL, SO WE TYPICALLY PLAY THE SONGS TOGETHER, EITHER BASS AND GUITAR, OR BASS AND DRUMS, AND CUT THE VOCALS LIVE TOGETHER ALSO, JUST TO GIVE IT THAT INTERACTION IN THE MOMENT, SO THAT THE MAGIC REALLY HAPPENS" EXPLAINS TIMMONS. OVER A YEAR, THEY CONTINUED WORK ON THE ALBUM AT SEVERAL STUDIOS AROUND NASHVILLE, EMPLOYING KRISTIN WEBER TO WRITE AND RECORD LUSH STRING PARTS AND JOSH KALER TO MIX THE FINISHED TRACKS.
THE SONGS ON TAKE YOU ON A RIDE RANGE FROM DYNAMIC ROCKERS LIKE THE OPENING TRACK "FISH FOR FREE," TO STRIPPED DOWN FOLK NUMBERS LIKE "KEEPIN' TIME", WHICH HIGHLIGHT THE PAIR'S ELEGANT MUSICIANSHIP AND HARKEN BACK TO MEANS' BACKGROUND IN BLUEGRASS, TO THE REGGAE INSPIRED "EVACUATE", A CLIMATE CHANGE MANIFESTO WHICH FEATURES A VERSE BY BIG HAIR OF CHARLESTON BASED THE DUBPLATES AND A HORN TRIO OF CHARLESTON PLAYERS. THERE IS A CERTAIN LEVEL OF OPENNESS IN THE DUO'S APPROACH TO MUSIC, WHICH ALLOWS THEM TO MOVE FREELY BETWEEN GENRES, CONCERNED ONLY WITH EXPLORING EACH SONGS' POTENTIAL. THERE IS NO PRETENSION, NO CONCERN ABOUT INDUSTRY EXPECTATIONS, SIMPLY A RAW EXPRESSION OF LIFE LIVED TO ITS FULLEST.
ONE OF THE ALBUM'S MOST STARKLY POWERFUL SONGS, "REPEATING SONG", WAS WRITTEN BY MEANS AND HER BROTHER JACOB AFTER THE CHARLESTON EMANUEL AFRICAN METHODIST EPISCOPAL CHURCH SHOOTING. "EVERY PERSON EVERY PLACE, KNOWING OPEN LOVING SPACE…THESE WORDS I'M READING/ TEACH ME OF HEALING/ YOUR EARS ARE LISTENING / LET'S STOP REPEATING" SINGS MEANS AGAINST A LANDSCAPE OF TIMMONS' THROBBING ELECTRIC GUITAR AND REPEATED MELODIC RIFFS.
"LISTEN SISTER" AND "MOLINI" SHED LIGHT ON SOME OF THE CHALLENGES WOMEN FACE IN SISTERHOOD AND IN RELATIONSHIPS. A FEEL GOOD ANTHEM CO-WRITTEN BY MELODY WALKER AND SHELBY, "LISTEN SISTER" IMPLORES WOMEN TO FIND THE STRENGTH TO FORGIVE AND "STICK TOGETHER" RATHER THAN LET JEALOUSY TEAR THEM APART. A GROWLING BASS INTRO LEADS INTO UPBEAT "MOLINI" AND THE LYRICS SPEAK TO THE POWER OF A WOMAN'S DECISION TO STEP AWAY FROM A TOXIC RELATIONSHIP.
THE 11 ORIGINAL TRACKS THAT MAKE UP TAKE YOU ON A RIDE WERE BEING FINALIZED AND A BUSY YEAR OF INTERNATIONAL TOURING WAS MAPPED OUT WHEN THE COVID-19 PANDEMIC HIT THE US. IN TRUE SALLY & GEORGE STYLE, THE PAIR WERE BEGINNING THEIR ANNUAL TOUR ON ST. THOMAS, US VIRGIN ISLANDSI. ONE BY ONE, THEY WATCHED THEIR UPCOMING TOURS FALL LIKE DOMINOES. AFTER SPENDING AN EXTRA MONTH IN TROPICAL QUARANTINE, SURFING AND LIVE STREAMING ON THE ISLAND, THEY CAME BACK TO NASHVILLE AND MOVED OUT OF THEIR APARTMENT, PACKING THEIR POSSESSIONS INTO THEIR TOUR VAN, WHICH DOUBLES AS A SECOND HOME. "THE DECISION TO LIVE OUT OF OUR VAN…INDEFINITELY… HAS BEEN A BIG SACRIFICE, BUT AT THE SAME TIME, IT WILL ALLOW US TO RELEASE THIS RECORD. IT'S A REALLY DISORIENTING TIME IN TERMS OF WHERE WE PUT OUR ENERGY, BUT WE'VE GOT THIS ART, WE'VE BEEN WORKING FOR YEARS AND WE REALLY WANT TO BE ABLE TO PUT IT OUT INTO THE WORLD" SAYS TIMMONS.
FOR NOW, THE DUO IS IN LARAMIE, WYOMING WAITING OUT THE PANDEMIC. "AFTER ALL OF THIS WORK WE ARE RIGHT BACK WHERE WE STARTED, WAITING FOR THE WORLD TO GET BACK ON TRACK," THEY MUSE. "IT REALLY DOES FEEL LIKE SOME KIND OF WILD RIDE."