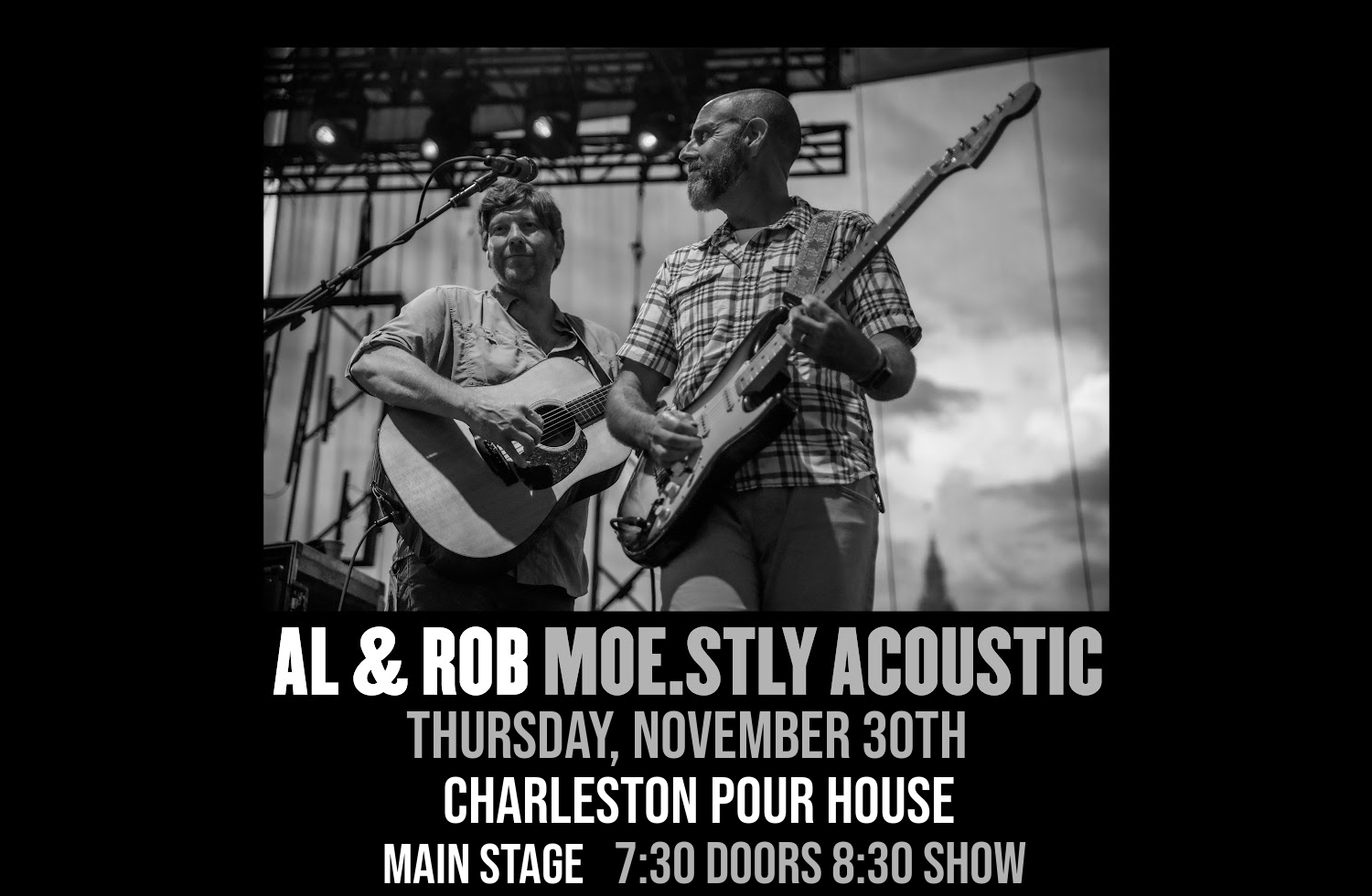 Al Schnier & Rob Derhak of MOE.
November 30 @ 8:30 pm

-

1:30 am

|

$22 – $25
GET TICKETS »
Al Schnier & Rob Derhak of MOE.
Al & Rob MOE.STLY Acoustic
Thursday, 11.30.23
Charleston Pour House
Main Stage
2 sets
7:30 doors /8:30 show
$22 advance /$25 day of show
moe.
Al Schnier (guitars, vocals) * Chuck Garvey (guitars, vocals) * Rob Derhak (bass, vocals) * Jim Loughlin (percussion, vibes) * Vinnie Amico (drums)
Hailed by American Songwriter for their "mind-bending musicality," moe. is treasured for their mesmerizing musical synergy, unfettered showmanship, and smart, resonant songcraft. For three decades, the band has corralled myriad musical forms on a truly original journey rich with crafty, clever songwriting and astonishing resourcefulness. Fueled by an impassioned fan base, moe. has spent much of those thirty years on the road, encompassing countless live performances marked by eclectic wit, deep friendship, and exploratory invention. Having built an enduring legacy with hard work and a confirmed commitment to creativity and community, moe. seem as surprised as anyone to find themselves at such a significant landmark.
"The career just very subtly unfolded," says co-founding bassist-singer-songwriter Rob Derhak, "without any of us noticing it actually happened."
Al Schnier (guitars, vocals), Chuck Garvey (guitars, vocals), and Derhak first came together at the University of Buffalo in 1990, musician-friends uniting to play for the sheer fun of it. The band followed a handful of cassette-only releases with 1992's FATBOY, recorded in an apartment studio above Buffalo's Top Shelf Guitars with a bird's eye view of Mighty Taco.
"We liked music, we liked to party, and we wanted to put those two things together," says Derhak. "We wanted to do what seemed like the coolest thing we could possibly do and not have to work a regular job. It didn't even seem like a decision had to be made. It's was like, this is what we're doing and it's happening. The idea that thirty years later I would be a dad, paying a mortgage and earning a living, based on our band, with the same guys no less, that never even crossed my mind."
Finding themselves with an increasingly avid local following, moe. ventured forth, now with master rhythmatist Jim Loughlin among their ranks. The more the band traveled, the more they grew creatively, evincing a remarkable willingness to progress as they went along. moe. quickly became part of a burgeoning scene centered around NYC's Wetlands, a grassroots revolution that embraced freewheeling genre fusion — spanning funk and free jazz, country and classic rock, prog, new wave, calypso, pop and everything else under the sun — fan interaction, and unrestrained improvisation.
"We adapted," Derhak says. "Initially we didn't have quite as much of the same ideal at first. We didn't jam or have long extended solos. But as we went from being an opening act to being a headliner, we didn't have enough material to do two long sets. We needed more material so our songs started to stretch themselves out. We became a jam band."
moe. widened its reach across America, earning new fans and national attention with their ingeniously imaginative interplay and a regularly growing catalogue. The band spent almost as much time in the studio as they did on the road, mastering their delightfully vibrant blend of inventive musicality and genre-blurring reach on now-classic LPs like 1998's TIN CANS & CAR TIRES, 2004's WORMWOOD, 2007's THE CONCH (which reached #1 on Billboard's "Heatseekers" chart), and 2012's critically acclaimed WHAT HAPPENED TO THE LA LAS. As if all that weren't enough, the moe. canon — released largely through their own Fatboy Records, as well as via two label deals, one major, the other independent — further includes a wide range of archival live releases (including 2000's L), a Christmas album, even a re-recorded collection of greatest hits.
2020's THIS IS NOT, WE ARE — the band's 12th studio album and first since 2014's NO GUTS, NO GLORY — includes eight new songs, most of which were road tested over the past two years of touring. In addition, the LP features one song making its first appearance anywhere, the Garveypenned "Undertone." Self-produced by the band, THIS IS NOT, WE ARE sees moe. once again pushing their music forward while simultaneously rifling through their back pages on songs like Derhak's nostalgic "Skitchin' Buffalo" and the Al Schnier composition, "Crushing."
"Our musical paths have diverged so many times," Derhak says. "All of our original influences became part of what we were at the time and then as we played, our sound kind of just grew. It changed with the landscape of the music business and it changed with what we were listening to. For example, some of our albums further down the road reflect a much stronger Americana influence. It's like, all of the things that we've learned in the past thirty years, all the things that we've done, have sort of come full circle."
"We're a better band now," Amico — who came aboard in 1996 and has remained behind the kit ever since — says. "The reality is, you spent thirty years with people doing what you do, you get better. There's no ifs, ands or buts about it. Your ears get more trained, your playing gets better and better, your ability to communicate with each other better."
That preternatural interplay was of course honed through night after night, week after week, of on-stage togetherness. moe. is truly a live band, rightly adored by a fervent following for their epic concert performances, each one imaginatively improvisational, rhythmically audacious, and utterly unique. Indeed, the band has spent much of its 30-year career on the road, including innumerable headline tours, international festival sets from Bonnaroo to Japan's famed Fuji Rock, music-themed cruises, and sold-out shows alongside such like-minded acts as the Allman Brothers Band, Robert Plant, members of the Grateful Dead, Dave Matthews Band, The Who, Gov't Mule, and Blues Traveler, to name but a few. As if that weren't enough, moe. has both promoted and headlined at multiple festivals of their own, including snoe.down and moe.down.
"We built our own career," Amico says, "where we are able to play places like Radio City or the Fox Theater in Atlanta, playing SPAC (Saratoga Performing Arts Center), my hometown venue where I saw concerts as a kid. We've played Red Rocks eight times or nine times or however many times we've played it. The fact that we built a career that we've played these places and have sustained playing these places, it's huge."
That illustrious career path has been supported and nourished by the band's ever-growing legion of devoted fans and followers, known lovingly as moe.rons. With their astonishing prolificacy and awe-inspiring longevity, moe. is among the rare bands that somehow manage to transcend time and trend to be passed down from one generation to the next.
"We've never been the kind of band where you're one-and-done," Amico says. "People have gotten married and had kids, now those kids are listening to us."
"There are people who have been with us right from the beginning in Buffalo," Derhak says. "Which is insane. But the thing is, we pick up people along the road. There are people who say, I've resisted listening to this band for years and then I finally did — I can't believe I've wasted my time not listening to them for so long. Now they're like, I need more albums, I need more shows."
Impossible to pigeonhole as anything other than simply moe., this one-of-a-kind band has never been easily categorized, their sonic adventurousness and tongue-in-cheek humor distinctly and undeniably their own. Despite current circumstances, moe. is celebrating their milestone anniversary with characteristic self-deprecation and wistful optimism. Here's to the next thirty.
"Thirty years is a long run," Derhak says, "to be with the same guys. I haven't even been married for thirty years. "
"You just don't think about thirty years down the line when you're starting out," Amico says. "I mean, you kind of do because that's what you want to be doing for the rest of your life. Here we are, thirty years later — I've had this job longer than I probably would've had any job in the real world."